---
New venture alert – Guess what, I'm now an art teacher

I came to the realisation that during lockdown, when I was doing a whole bunch of fun arty and crafty stuff with sam at home, I really loved those days. And it was just trying to juggle it with working, that was really REALLY hard. On the days where I ignored my job, I really enjoyed myself if I'm honest. Drawing on the windows, painting in the backyard, creating chalk masterpieces on the driveway and doing a whole bunch of pasting. Simple fun that gets kids away from the tv.
Aaaaanyway, I enjoy making art with not just my little one but other kids too – and I also remember the bordom of having a baby and a toddler at home, and really wanting to get out of the house, but not really knowing where to go or what to do. I also constantly have other mums tell me that they wish they were creative like me, or they are so surprised at how I don't mind at all getting dirty, or getting the house dirty, or that they want the kids to paint but they don't want to actually paint themselves.
So I figure that maybe there is a need for these classes, and time will tell if it works and people book in.
The business name is 'The Fun In Art' and that's because it's going to be more focused on the fun the kids will have actually creating the art, rather than creating a masterpiece or being too picky about the outcome. I won't necessarily be teaching art (although I will be) I'll be teaching THE LOVE of art, and making art.
I'm excited, and I hope it is a success.
I've now got some sessions booked in, in the Williamstown Library.
Tuesday 29th November 2022 @ 10am
Thursday 1st December 2022 @ 10am
Tuesday 6th December 2022 @ 10am
Wednesday 7th December 2022 @ 1pm
Tuesday 13th December 2022 @ 10am
My new website can be seen by clicking here.
And here is my logo!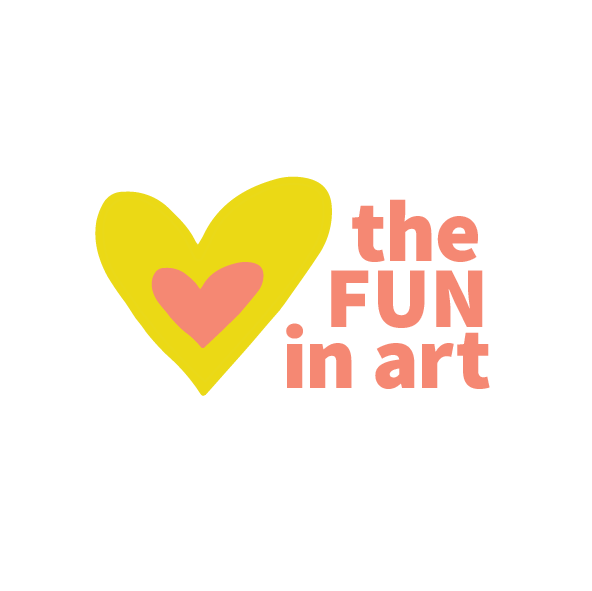 ---