I have just received prints back from the printer, always an exciting time!
Here is my finished latest project: Hair by Jackie Tuffin, a small hairdressing salon in the heart of Werribee. For this project I designed the logo, business cards and pricelists, and I have decided to blog about my process.
There are alot of bad hairdressing logos, so it took a bit of researching to find some good ones to get inspiration from. Once I did find some I liked, I started sketching, wrote ideas and lists down. Thought about her target audience and the way the salon will be set up, and Jackie Tuffin herself. I then left my ideas to settle and think about it.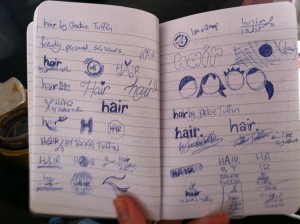 With a fresh mind, jumped on the computer a few days later with pages of sketches and word lists, found a heap of suitable fonts, basic colours and refined from there. Once I was happy with two of the concepts I emailed to the client where she loved them both – yay!
With the colours changing to her now chosen colours, text and price changes and final touches I was ready to set up for print and get it going. This was such a positive experience because she told me countlessly that she trusted my judgement and asked for my advice.